Spinning Roof Vents & Skyaxis Wind Driven Ventilators NZ
At Roofquip, we supply Skyaxis wind-driven ventilators across NZ. Skyaxis products are ideal for whatever requirements you have. This includes extracting from your building hot and humid air, condensation, fumes, pollution, odours, stale air, and more.
The operation of our wind-driven ventilators is simple. They are fitted to your roof and are operated by the wind. This means there is no need for wires or any sort of power source. Instead, the wind operation effectively draws the hot, stale, and damp air up and out of the building.
This then brings fresh and clean air into the building from other openings such as doors and windows
As it is the wind as well as the flow of air and heat rising towards the ventilator that makes them spin, wind-driven ventilators cost nothing to run.
They are suitable for any size or type of building too, from small homes to large industrial warehouses.
Quality Skyaxis Construction
The wind-driven ventilators we supply are ideal for NZ weather conditions. Plus there is no requirement for maintenance.
All the Skyaxis ventilators we supply have a high-quality construction that uses a corrosion-resistant aluminium alloy. This makes the ventilator lightweight to ensure maximum spinning efficiency even in light wind conditions.
Skyaxis ventilators also feature self-lubricating stainless-steel axial bearings for long-lasting performance.
Not only that, we have a wide range of sizes and types available to suit the specific requirements of your building, plus the ventilator can be powder coated to match your roof's colour.
How Skyaxis Ventilators Work:
Skyaxis ventilators work by allowing hot, stale and damp air to be drawn up and out of the building. The removal of this air creates a convection current which draws fresh air back into the building through other openings. Skyaxis ventilators begin to spin due to the heat in a building rising and also the wind running directly past the ventilator on the roof. The simple action of Skyaxis ventilators keeps energy costs down while ventilating any building, from a small home to a large warehouse – all in an eco-friendly manner.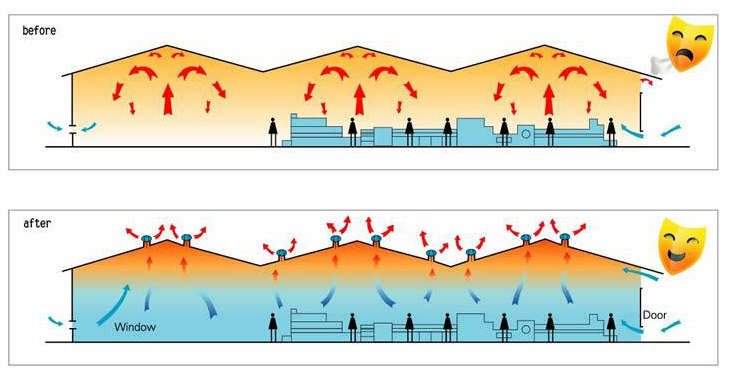 Looking for Spinning Roof Vents in New Zealand?
Benefits of Our Wind-Driven Ventilators
We can supply our wind-driven ventilators wherever you are in NZ. The benefits include:
Reduced heat stress on your building
Improved comfort levels in your building
Following on from the above point, improved comfort can enhance staff productivity
Increases the lifespan of stored products even without powered cooling solutions
Reduces the build-up of mould
Prevents dust mites
Makes air and the general internal environment of your building cleaner and healthier
Why Choose Our Ventilation Solutions?
Fits most types of roof and is easy to install with no wiring
Low cost to buy and no running or maintenance costs
Efficient and environmentally friendly
Completely maintenance-free
Waterproof and corrosion resistant
Silent operation
Wide Range of Whirlybird Vents or Spinaway Roof Ventilator
Wind-driven ventilators, sometimes known as whirlybird vents or spinaway roof ventilator systems, are the ideal solution for your NZ property. The Skyaxis range includes multiple sizes and types to ensure you get the right solution for your roof. There are also both curved vane and straight vane options available.
If you need help from a member of our expert team, please contact us today on 03 579 5086 or email us on [email protected].
For installation details, visit our installation page.
Wind-Driven Ventilator Accessories
Dampers – dampers are available for some sizes of ventilators please enquire.
Ceiling diffusers and Duct kits – are available for the 300mm sized ventilator. If your building has a ceiling cavity and you need to ventilate a room beneath ceiling diffusers and duct kits are available to achieve this.
If you need any help to work out how many vents and what size and type are required for your building, please do not hesitate to contact us, or please provide your building dimensions of the area you are wanting to ventilate and we will provide a recommendation for you.